Of all the makeup products that we women use, blush enjoys unparalleled popularity. It is quick and convenient – even when we are in a hurry to leave. However, despite its wide use and popularity, many of us make some blush mistakes! Have you not been able to achieve the look you wanted, even when you used the blush patiently? Well, you could be making a mistake or two, which we shall address in the next section.
The secrets the applying blush correctly
How do you know if you are putting on blush correctly? The answer lies in your final look. Too little of it doesn't make a difference at all, while too much of it gives your face a cakey look. The steps given below will help you strike a balance to apply just the right amount of blush in the right way. We also examine the potential mistakes that women make in each of these steps.
The steps to follow
Apply foundation on all parts of your face.
A relatively easy step – make sure that you've picked the right shade for your foundation. Be it your blush or your foundation – some women have a habit of choosing the shade that looks good. It is the first blunder. Match the shade with your skin tone to obtain the most natural look.

Use a small, fluffy brush to apply blush.
Here, be careful to use the correct brush size. Some women also apply blush only to the apples of their cheeks, regardless of their face shape.
For instance, those with round faces can apply blush along the cheekbones. And women with an oval face look the best when they apply blush in an upward motion to the apples of their cheeks.
Apply your blush in natural daylight. If not, you risk applying too much blush.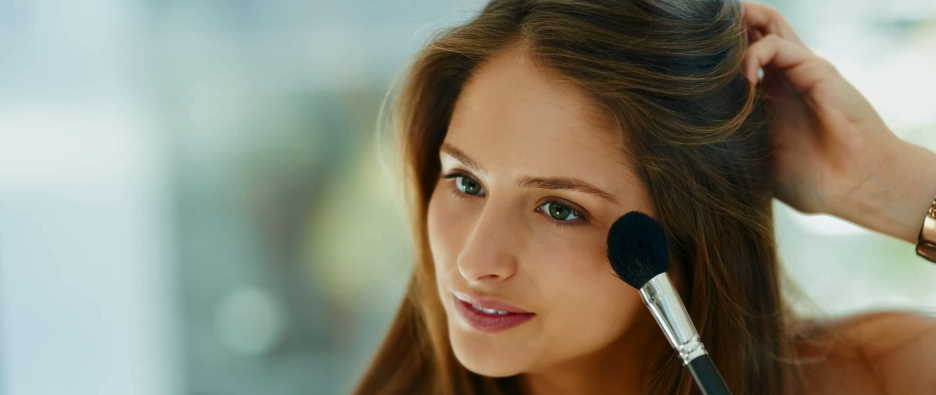 Also, consider your skin type while choosing your blush. For example, a powder blush may not suit women with dry skin. The powder adds a chalky look to your face. So, it is better to apply cream blush.
With your foundation brush, apply a light layer of foundation over the blush.
And that is it! You have a natural-looking blush!
Note – When you are in a hurry, you tend to dust your face with a tiny bit of blush. If you follow this method, the blush is hardly visible on your face. Instead, dab the blush on your cheeks. And blend it using a fluffy brush.
Applying blush correctly takes only a few minutes. If you use a blush with the right texture for your skin type, the right shade for your tone, and a proper brush to apply blush, it goes a long way in adding to your look.